Click and view a video from our rally experiences
Click and view a video from our racing experiences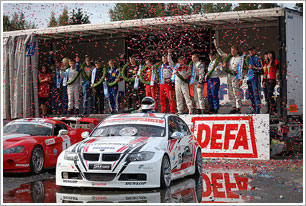 We provide unforgetable corporate entertainment experiences in Finnish Race Championship series aswell as in private events.

NOTE! All entertainment experiences are tailor-made according your needs.
Contact us and ask for more info!

Finnish Race Championship VIP
Please have a seat with is in Finnish Race Championship series and start enjoying in thrilling world of Motorsport! With us you get possibility to enter closer than ever into the world of motorsport. You'll be a part of our team, enjoy tasty food, drinks and especially shere the successfull moments with us. As a bonus you'll get a possibility to have a ride in our VIP-taxi in the race circuit. Ride of your life is offered by well-known race driver and organizer Mika Heinonen.

NOTICE!
We use full-blooded race car as a corporate entertainment experience car. You could race in Super Touring with this car and therefore all safety issues are well preprared!
Driving experience in race circuit

Do you want to take your first steps into thrilling world of racing or just want to try your limits with Super Touring BMW race car?
We provide tailor-made driving education and racing events with several other cars!
Corporate Entertainment Experiences for your needs
View following images and see the video of one our corporate entertainment experience. Do notice the variety of possibilities if your corporate entertainment experiences!